Having a copier lease with a reputable copier leasing company can be a huge asset to your business. It is not uncommon for people to try and avoid a copier lease as a way to save money. However, a copier lease has a lot more value than some people give it credit for. When you get a copier lease at Kansas City Copier you can be sure that you are getting your money's worth.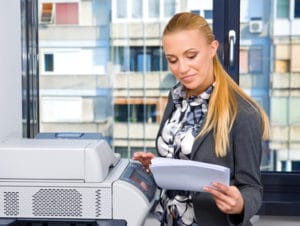 A good copier lease will make your life easier and your business run more smoothly. The first  and biggest reason for this is that you will be able to get a better office machine. Our selection of Kyocera and HP office machine are the best around, and going with a cheap option at an office supply store will not be able to offer you the same features.
Additionally, you will be left with no support if you run into problems if you are not on a lease. Being on a copier lease gives you access to, at the very least, access to your copier representative. They can help you troubleshoot. Many copier leases also come with maintenance contracts to have the professionals help you when you need it.
Being on a copier lease is vauable because you get the best machines and the best support. You always have someone to turn to and can be sure that you are getting something that will not let your business down. Come talk with our representatives at Kansas City Copier to learn more about getting a great copier lease.