Light Production For Your Projects
When printing colorful materials is a vital business process within your company, you really want to keep it in-house as much as possible. Constant trips to a FedEx Office will gradually eat away at your bottom line. With the Ricoh SP C840DN color laser printer, you can manage all your light-production print needs right in the office! With outputs as high as 45 pages per minute, and with professional finishing touches such as folding, stapling, hole-punching, and more, everything you need is right here.
What Can It Do?
As a leading brand of printers and copiers for business use, Ricoh has designed the SP C840DN to be a highly versatile machine. Everything from business cards, envelopes, booklets, to glossy brochures can be printed in full color and with a resolution of 1200 x 1200 dpi.
More than a dozen paper sizes and formats are supported by two adjustable trays. There is a bypass feeder with a capacity of 1,200 sheets, which can be extended too a maximum capacity of 4,700 pages. When equipped with a bridge unit and organizational mailbox accessories, the output can be maximized to 4,000 printed and finished pages split into multiple jobs.
The bright colors printed by the SP C840DN are pretty impressive on their own, but what really sets this machine apart is its various finishing features. The internal folding mechanism allows you to produce trifold brochures as well as standard booklets. This would be ideal for Kansas City businesses that need to print enticing guides and itineraries. All in all, having this laser printer in your office is like running a small print shop within your company.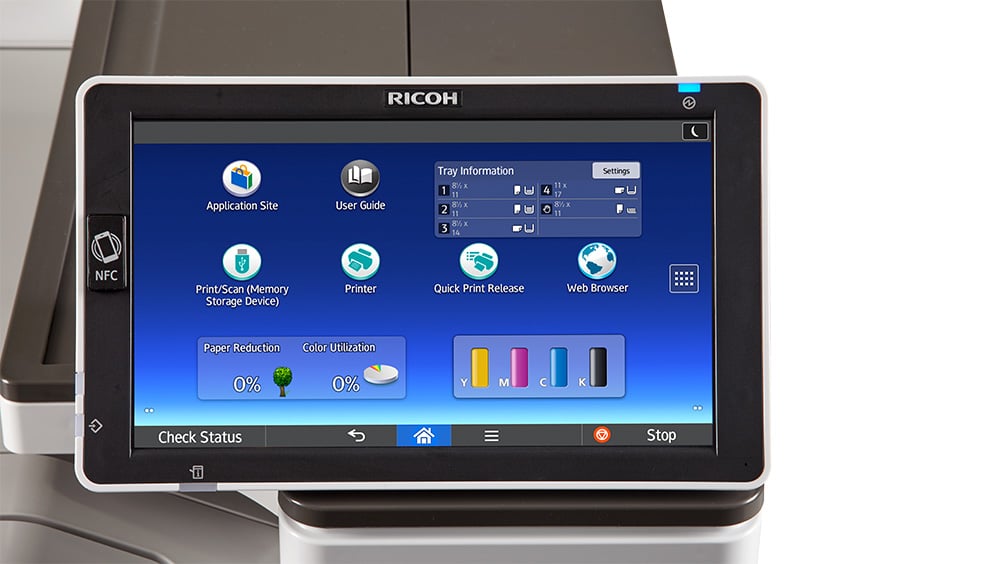 WiFi, LAN, Wireless Printing
As can be expected from an advanced Ricoh printer, this one can easily be configured to be part of a LAN or WiFi network. Remote monitoring and wireless printing can be easily set up through Ricoh apps that let you print from Android and iOS devices.
Lease Or Rent Your Light Production Ricoh
The Ricoh SP C840DN is available as a lease or straight sale in Kansas City. The lease option generally works better for business owners who want to scale their print output gradually. Business owners who are certain that their light-production printing needs will remain the same often consider a purchase to be a good investment that can pay itself off faster than expected. You don't have to worry about the SP C840DN taking up too much space; its compact form makes it able to fit into a corner in your office supply closet.