Does your company demand the greatest printing ability available? If so, then getting a tabloid printer for your office will probably help you out. Tabloid printers are the standard for those who need the most from their office machine. They are not your normal print and copy solution. Tabloid printers are specifically made for those who need a powerful printer.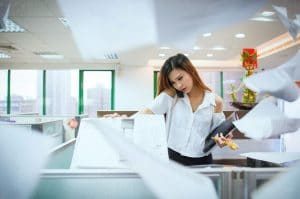 Tabloid printers have the ability to print larger media sizes than a typical printer. Tabloid papers are twice the size of legal sized paper, and measure in at 11" x 17". This makes them perfect for making things like posters, magazines, or other media print.
A good tabloid printer will give you the ability to accomplish more than you ever could before. That's because they are bigger than your normal machine, and have more parts. These extra parts are what make this machine run as fantastically as it does.
You will be able to print more, quicker than ever before. It also gives you the ability to not only get fast prints, but also prints that look amazing. Tabloid printers will typically have a higher print resolution and more complete color pallet than cheaper options.
All this power does come at a cost though. Tabloid printers are a good amount more expensive than other options, but that's because they offer more than anything else.
If you need a tabloid printer for your biggest jobs then you should call us at Kansas City Copier. We have the best machines for the best prices. Don't wait if you need a tabloid printer for your business. Give us a call today.