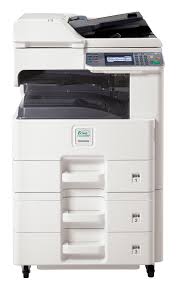 How to Buy a Copier in 2020 (and Still Maintain Your Sanity)
The process of purchasing or leasing a copier can be a confusing nightmare. If you want to maintain your sanity on your journey to buy a printer for your company, keep the buying process as simple as possible.
Follow the simple 4-step process below to learn everything you need to get the best deal possible on your next copier purchase.
S – Survey Your Peers
See what people are doing and how they're doing it. It's important to know what people in a position similar to yours are doing, and what their copier needs are before a copier rep tells you what they think you need to pad their commission check.
A – Assess Your Organization's Needs
Once you understand what people are doing, you can investigate your organization's current needs and what features you need to purchase for your copier.
For example, everyone may print color, but do they need a color printer if all they're printing are internet maps? Assess what's happening and if these are things that should be happening. Ask yourself if you need these features or if you're better off cutting them from your budget.
L – Leverage Your Vendor
Leverage your current vendor with the knowledge that you will be asking for more than their quote. Get your quotes itemized to ensure you're getting a fair price for the copier and all of its features you're looking to buy.
Ask every question that comes to mind. Make the copier rep spell out everything they're doing and what happens if they don't get that done.
T – Try and Buy Your Copier
You will need to pull out your credit card and buy a copier eventually. Don't drag the process out until the end of time. See what people are doing, decide if it's necessary for your circumstance, leverage your contacts, and use what you learned to get the best deal possible for your copier.
Follow This Process to Take the Complications Out of Buying a Copier.
By following the SALT methodology, you will make the experience of buying a copier much more satisfactory. From what you learn by going through this process, you'll find a much better deal than you would have by following the copier rep's suggestions.
Follow the process, and you'll get a copier deal that works for your company, not just your copier rep's bottom line.