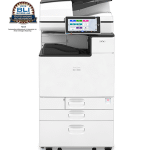 For a Multifunction Printer (MFP) that meets every demand of your office, the Ricoh IM C3000 is the best. It has printing, scanning, and copying functions as well as an optional fax function. 

The IM C3000 can print at a rate of 30 pages per minute in either black and white or color. This speed is suitable for smaller offices with a medium to a large team and a medium workload. It has a printing resolution of up to 1200 dpi, ideal for printing high-quality pictures. 
As for the paper capacity, the IM C3000 has two paper trays, which can hold up to 550 sheets. Additionally, there's the 100-sheet bypass tray that increases the total capacity to 1,200 sheets. Add the optional trays, and you get a max capacity of up to 4,700 sheets. The output tray can handle a maximum of 500 sheets (standard) and 1,625 sheets (with optional trays).
The IM C3000 supports paper sizes as big as 8.5 x 11 inches (A4) with the standard trays. With the bypass tray, you can print a maximum size of 12 x 1″.
But that's not where the features end. It has a gold EPEAT status, meaning it makes the most of electricity and doesn't waste even the tiniest bit. 
Apart from that, the IM C3000 has a lot of security features to keep your information secure. This is to prevent hackers and malicious people from acquiring confidential information. For medical offices, where medical records are highly confidential, this will be of particular interest.
More specifically, these copiers feature data encryption so that no one can read your data. They also feature user authentication so that only authorized people can access your information. 

If you are interested in the Ricoh IM C3000, call Kansas City Copier today!