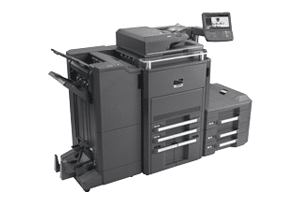 Looking for a Copier in Kansas City?
We have many copiers for sale, so how do you know what is the right copier for you?  The best way is, of course, to match your needs with the capabilities of various copiers.  For example, if you need a color copier, that will disqualify about 1/2 the copiers we sell.
Here are some of the questions we like to ask as you are comparing copiers in Kansas City:
Do you already have a copier quote you like?  What else are you looking at?
Do you need color or B&W?
Do you need wireless?
How many pages a month do you want to print or copy?
Do you need 11X 17 capability?
Do you need fax?
Do you need stapling?
Each of these questions can eliminate about 10% of the copiers, at least, so by the time we get done with all of our questions there are maybe 3 copiers left.  At this time we can create a side by side if you wish or simply talk you though the options.  If you need a copier in Kansas City, please give us a call!