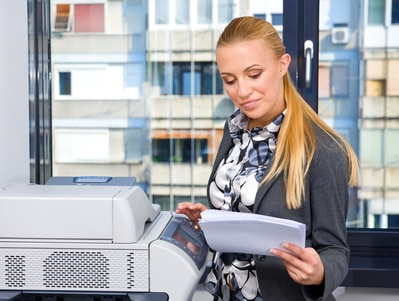 Are you one of the few companies that produce tabloid prints daily? If you are, you may be paying double print costs every time you use a tabloid sheet.
A tabloid sheet is 11' x 17', exactly twice the size of a standard 8.5" x 11" letter sheet. Because of this size difference, many copier manufacturers will count this as two "clicks" (meaning two prints.) Other manufacturers set their copiers up so every print that they produce counts as one click (or one print.)
If You Produce Tabloid Prints Daily, Your Costs Can Add Up Quick.
Let's say your color print costs are $0.075 per color print, and you ran 1,000 tabloid prints a month. If your copier manufacturer set up your copier to run your tabloid sheets as two clicks, you would lose an extra $75 a month, which would add up to $4,500 over five years.
Follow These Simple Strategies to Minimize Your Tabloid Print Costs.
Find manufacturers that count tabloid prints as one click.
If you do a lot of tabloid prints, you want to find a copier company that counts every print as one click. Double-check with your rep that your copier produces "one-click" tabloid prints before you sign the lease.
Watch your color coverage.
Are you making color tabloid prints? If you are, you want to check to see if you pay overages if you go over a specific color coverage. Many lease contracts have a provision stating that if you go over 20% color coverage, you will get charged for the extra toner you use. If you use tabloid sheets, as they're double the size of regular sheets, they will take twice the toner to complete a print.
In this case, using 20% coverage on a tabloid sheet could translate into 40% coverage. To make sure your color costs don't empty the company account, make sure your coverage is only 10% for tabloid sheets.
This One Little Change Can Cut Your Tabloid Print Costs in Half.
Telling how many clicks a tabloid copier counts for each print isn't apparent from looking at it. If you are looking to buy a tabloid copier for your business, click count should be the first thing you ask about the copier in question. Doing so will save you thousands of dollars over the life of your contract.